Bob Galligan, Brewery Sensory Coordinator, updates us...

"Two days ago, 364 days after Covid was declared a pandemic, at 1:11, I received news I was randomly selected to receive a vaccine dose by the state of MN.
By 5:15, I was standing in a line with hundreds of others. Masks couldn't hide the fact that these strangers were genuinely smiling at each other. By 5:30, as Thunder rolled over head as if Zeus were present, I sat and stared into the empty red velvet audience of Roy Wilkins Auditorium, where many of my ancestors have sat at some point over the last 60 years.

Last time I was there, it was fully packed and I was watching the Senator From Vermont speak with a member of The Squad. Now we were socially distancing, squinting at our phones from behind masks, high off adrenaline."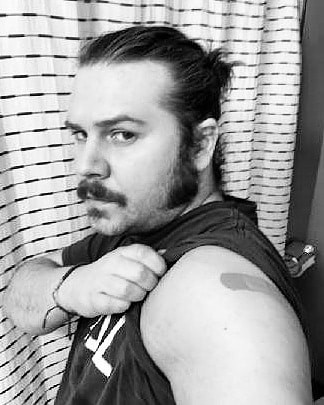 Photo courtesy of Bob Galligan
"There are 3 more groups now getting vaccines in the state. People with underlying conditions (kind of like the young kids who still partied last summer because covid wouldn't hurt them... only the EXACT opposite.)

People like me, who haven't gotten to stay home a day in the last year and clocked in to keep the world moving before masks were even accepted knowing full well that they could bring this home to their loved ones. But had no other option.

And people who lied to the state, who are going to lie anyway and that's between them and their afterlife.

I initially wanted Moderna since I invested in them (if you know me, 'Immigrant Founded BioTech' are words that will definitely peak my interest), I wanted J&J so I could reap the benefits of vaccination a month earlier. But I'm so grateful for the Pfizer shot.

Within me is a spy. Who is literally training my body to wage war on an unseen enemy that seeks to kill me and all my loved ones because that's it's purpose. Science has developed one of the peaks of human achievement in less than 354 days. Scientists have developed this spy within me.

What I'm trying to say is. We're not out of the woods, but the forest is thinning. When it's your time. Get the poke. And thank Science."