Larissa Loden, Jewelry Maker & Boss Lady, at home with her husband Aaron Lindgren, Data Analyst, and their two children Eevi and Baby Aleister. Larissa tells us,
"The Pandemic has completely changed me for the better. All of the personal work I have done throughout the last year I don't think I would have done without it happening.

It showed me that I really need to invest in myself as a leader to be able to lead people through it. This meant reaching out to people and saying 'I don't know how to do this' more than once. But because of that I have listened to SO many hours of Brene Brown and Adam Grant podcasts, read books on leadership and have lead my team with honesty and compassion through The Pandemic."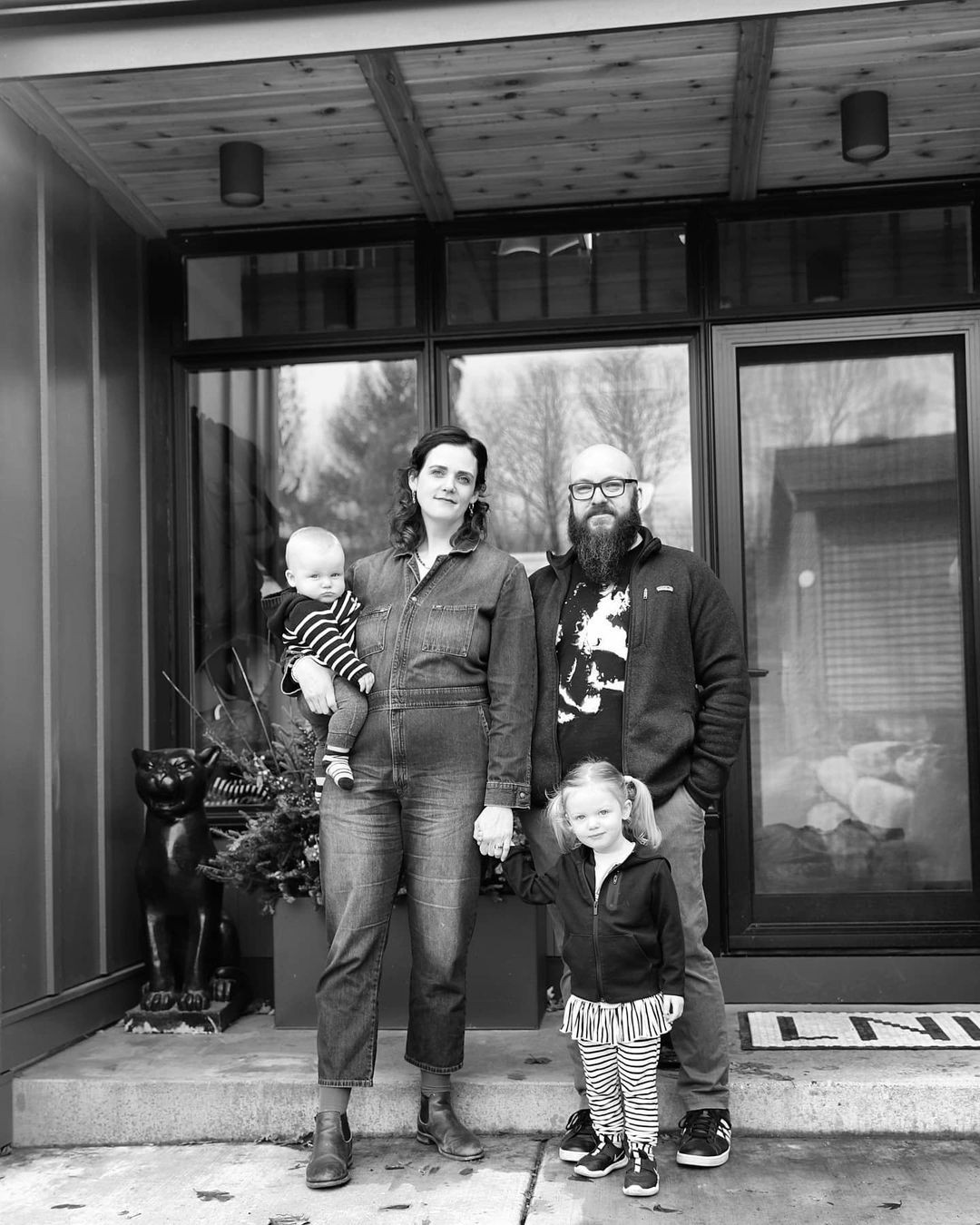 "The murder of George Floyd completely changed me, like so many other white humans. I needed to start doing the work and understanding our racist past. I have listened and read and had conversations with others. My biggest personal goal is to allow for space to be messy and ask questions because if we don't allow that for others than none of us will grow.

The trial of Derek Chauvin has left me with so many unknowns. I want to be able to support my staff through this, offer them space when they need it. But none of us know what will happen, only time will reveal this. So we wait."
"The pandemic has changed how retail business is done. I think everyone has seen the importance of how much e-commerce is going to play in the future of retail, and how our current systems are not set up to support that. The shipping delays seen over the holiday season will still be here next season if other industries don't evolve to meet this new demand.

I also have seen how much all of us miss making connections over objects. Going to a store and finding that perfect give for someone. I also know myself and my team have missed going to events and meeting people and sharing those experiences. There is a very social element to retail and I think the pandemic has made us all realize just how social we all are.

I think a lot of good has come from this incredible hard time. While hard at times being a mom of two young babes I have really enjoyed all the time with my family and the pandemic allowed me to change how we do business and how I lead so I can continue to do this once the pandemic is over.

I also know it really changed me with how I lead and show up for others so I hope this is the case for more people as well. I think for all us know we know how important good honest wholehearted leadership is to us and when it is missing how scary things can be."
"(In the New Normal) I am so looking forward to continued walks with humans. I don't know why it took a pandemic to be like lets go for a walk instead of lets go get drinks. That being said I sure do miss me some drinks with my friends time...

And I cant wait to see all you babes out at a future event! I miss all the amazing people that make up our wonderful Twin Cities."